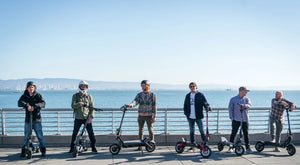 Dualtron: The Ultimate Ride for Urban Explorers
High Performance

Dualtron scooters are known for their speed and power, thanks to their dual motor system and high-quality components.
Long Range

With large batteries, Dualtron scooters can travel long distances on a single charge, making them practical for longer commutes or recreational rides.
Durability

Dualtron scooters are built to last, with sturdy frames and high-quality materials that can withstand heavy use and rough terrain
★★★★★

Add customer reviews and testimonials to showcase your store's happy customers.

Convenience

Dualtron scooters are a convenient way to get around, especially in urban areas where traffic and parking can be challenging.
DUALTRON Official Canadian Distributor
EZBIKE is the official Canadian distributor of Dualtron electric scooters. We provide customers with high-quality electric scooters that are designed and manufactured by the reputable Korean company, Minimotors. Our goal is to offer the best products and services to meet the needs of our customers, while providing reliable and efficient transportation solutions.
Wide Selection of Dualtron Scooters: We offer a wide range of Dualtron electric scooters to choose from, each with its own unique set of features and capabilities. This allows customers to find the scooter that best fits their needs and preferences.
Expert Guidance: Our team of experts is available to provide guidance and advice to customers looking to purchase a Dualtron electric scooter. We can help customers choose the right scooter for their needs, answer any questions they may have, and provide ongoing support and maintenance.
Warranty and Repair Services: EZBIKE provides warranty and repair services for all Dualtron electric scooters purchased from us, ensuring that our customers receive the best possible support and service.
Fast and Reliable Shipping: We offer fast and reliable shipping across Canada, ensuring that our customers receive their Dualtron electric scooters in a timely and efficient manner.